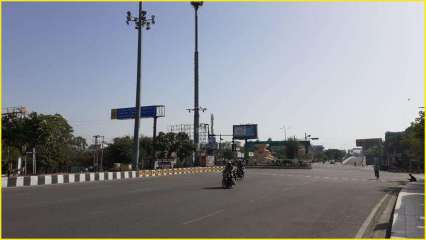 Migrant Struggle: 15-year-old girl cycles 1200-km from Haryana to Bihar with injured father in tow
In the duration of the coronavirus disease (COVID-19)-necessitated nationwide lockdown in India, several stories of the innumerable hardships being faced by the country's migrant labourers and their daunting perseverance in the face of that have come to light. The latest in that list is the story of a 15-year-old girl who cycled almost 1,200-km, from Gurugram in Haryana to her hometown in Bihar's Darbhanga, with her injured father riding pillion.
Mohan Paswan, a resident of the Sirhualli village at the Singhwara block of Bihar's Darbhanga district, used to provide for his family by running a tempo in Gurugram, but only a few months ago had he succumbed to an accident and as a result, rendered jobless because of his injury.
Following this, Mohan's 15-year-old daughter, Jyoti Kumari, had moved to Gurugram to take care of her father in the wake of the accident, while her mother stayed back at their village with her younger siblings.
However, in the meantime, the COVID-19 pandemic outbreak continued to spread like wildfire and the father-daughter duo was unable to do anything due to the nationwide lockdown. Mohan was unable to earn and his landlord had given him an ultimatum to pay the rent or to vacate the house.
They were so hard-pressed for money that he had to stop taking his medicines so that they could buy food. Arranging rent money became very difficult.
It was then that on his daughter's insistence, Mohan bought an old second-hand bicycle on a loan and the duo left Gurugram for their native place, with Jyoti peddling all the way for 30-40 km a day, having her father riding in pillion. It was a long and painful journey but at long last, after almost eight days, the father and the daughter finally managed to reach their native village of Sirhualli.
Currently, the duo is admitted to a quarantine center in the district. They are determined to not go back to Gurugram again.
The proud father calls her 'Shravan Kumar' for her deed. "She is indeed my Shravan Kumar. Having arrived feels like salvation," Paswan told news agency PTI.  
Meanwhile, the Cycling Federation of India, impressed with her determination, invited Jyoti to appear for a trial in Delhi next month. Chairman of the federation Onkar Singh told PTI that if Kumari, a class eight student, passed the trial, she will be selected as a trainee at the state-of-the-art National Cycling Academy at the IGI Stadium complex.
"We spoke to the girl this morning and we have told her that she will be called to Delhi next month as soon as the lockdown is lifted. All the expenses of her travel, lodging, and other will be borne by us," Singh said.
Disclaimer: This Article is auto generated by computer software and has not been created or edited by Sainik Welfare News. Publisher: www.dnaindia.com