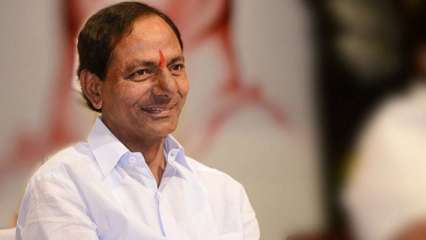 Migrant workers should not walk back home; trains, buses arranged: Telangana CM
Telangana Chief Minister K. Chandrashekhar Rao has instructed officials concerned to ensure that no migrant worker should undergo the unfortunate situation of walking back to hisher native place.
Since the last few days there's been a severe heatwave in the Telangana region making it dangerous for migrant workers who want to travel back home on foot.
The CM has instructed Chief Secretary Somesh Kumar to arrange trains for the migrant workers to reach their native places. If need be, arrange buses if train services are not available.
The CM also appealed to migrant workers not to walk back to their native places, as the state government would take the responsibility of shifting them to their native places.
Notably, the Indian Railways had decided to operate the 'Shramik Special' trains subsequent to the Ministry of Home Affairs (MHA) order regarding the movement of migrant workers, pilgrims, tourists, students and other persons stranded at different places via special trains.
These trains have ferried migrants to cities like Tiruchchirappalli, Titlagarh, Barauni, Khandwa, Jagannathpur, Khurda Road, Prayagraj, Chhapra, Balia, Gaya, Purnia, Varanasi, Darbhanga, Gorakhpur, Lucknow, Jaunpur, Hatia, Basti, Katihar, Danapur, Muzaffarpur, Saharsa, etc.
In these 'Shramik Special' Trains, proper screening of passengers is ensured before boarding the train. During the journey, passengers are given free meals and water.
After the end of the fourth phase of the lockdown, Indian Railways has decided that passenger train services should be partially restored with 200 train journeys to commence from June 1.
These new trains will be plying in addition to the shramik special trains and air-conditioned special trains which are carrying passengers from Delhi to 15 major cities.
It is to be noted that the passengers need to book their tickets online through the IRCTC website or through Mobile App. 
Railways Minister Piyush Goyal on Thursday announced that development of protocols for resuming ticket booking at the counters is underway and in the next 2-3 days, people will be able to book their tickets from the counters as well.
As of now, tickets can only be booked online through the IRCTC website.
The minister also said that more trains will be resumed by the government, adding that it is now time to take India towards normalcy.
Goyal further informed that from Friday, booking of train tickets will resume at around 1.7 lakh common service centres across the country.
Disclaimer: This Article is auto generated by computer software and has not been created or edited by Sainik Welfare News. Publisher: www.dnaindia.com