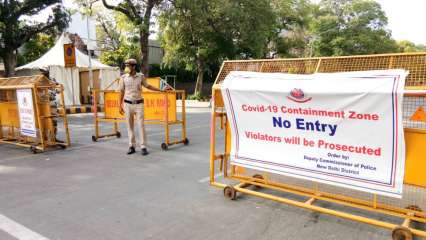 Traders urge Kejriwal to rethink odd-even formula for shops
Welcome fresh Delhi government guidelines for lockdown, allowing economic activity in the national capital, the Confederation of All India Traders (CAIT) on Monday urged Chief Minister Arvind Kejriwal to rethink odd-even formula for shops in markets. 
Delhi government on Monday issued guidelines for the Lockdown 4.0, allowing shops to open on an odd-even basis. 
Announcing the new guidelines through an online media briefing, Delhi Chief Minister Arvind Kejriwal said, "We have to gradually move towards opening the economy. We used the lockdown period to make arrangements to deal with COVID-19."
"We welcome the statement of Chief Minister Arvind Kejriwal for allowing to open the markets. This step is much awaited and will certainly bring the economy of Delhi back on the wheels and the traders of Delhi will be able to resume their business operations. The trading community of Delhi stands in solidarity with Delhi Government in resuming economic operations in Delhi," CAIT Secretary General Praveen Khandelwal said. 
He urged Delhi Chief Minister not to keep base of odd-even for markets since it will be a setback for the traders. 
"The odd-even concept can not work smoothly for business operations. He said that traders in Delhi are dependent upon each other for procurement of goods and in event of odd-even scheme, the business activities will not be able to resume in a smooth manner. He further said that even from the point of consumers, it is very inconvenient as it will deprive the consumers from their choice since half of the shops will be closed for each day," CAIT said in a statement. 
"Instead of odd-even, the Delhi markets can be bifurcated into blocks and one such block of markets may be allowed to open from 8 am to 1 pm and the second block may be allowed to open from 1 pm to 6 pm or even on alternative days. It will help the traders to open shops in a systematic manner and in a comprehensive way whereas the consumers will get the full choice," it added, 
"Delhi is a hub for wholesale activities and the largest distribution centre of trade in the Country. It will be very difficult for the wholesale trade to operate in odd-even manner.  Therefore, an alternate method is required to be adopted. The odd-even scheme will also create disturbance with transport system. There has to be synergy between Industries, trade and logistic sector to reopen," it further said. 
As large number of traders operating businesses in Delhi are residing in nearby cities like Noida, Ghaziabad falling in UP and Gurgaon, Faridabad, Bahadurgarh, Sonepat in Haryana, the traders' body requested state governments to work out some kind of mechanism to facilitate smooth trans-border movement.
Earlier on Sunday, the Centre extended the coronavirus-enforced lockdown in the country till May 31 with some more relaxations.
Announcing the new guidelines, Kejriwal said auto-rickshaws can carry one passenger and four-wheeler vehicles, including taxis, will be allowed with only two passengers.
Two-wheelers will be permitted but no pillion riders, the chief minister said.
Buses will also be allowed with only 20 passengers and people boarding buses in the city will have to be screened first, Kejriwal said. 
"Construction activities and trucks carrying goods will be allowed in Delhi," he added. 
The chief minister said that religious gatherings continue to remain banned in the city till May 31. Restaurants can open for home-delivery but dining facilities will not be permitted, he added. 
Disclaimer: This Article is auto generated by computer software and has not been created or edited by Sainik Welfare News. Publisher: www.dnaindia.com