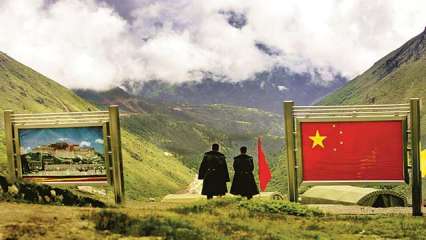 US supports India over recent border dispute with China, calls Beijing's behaviour provocative, disturbing
As India is engaged in a serious border tension with China around Pangong Tso lake and Galway Valley in Ladakh, the United States on Wednesday supported India, calling China's aggression as "not always rhetorical", and accusing it of "provocative and disturbing behaviour".
According to military sources in New Delhi, the Indian and the Chinese armies have been engaged in a standoff in areas around Pangong Tso lake and Galway Valley in Ladakh as additional troops were brought in two weeks after both sides were engaged in a fierce faceoff.
"The flare-ups on the border, I think are a reminder that Chinese aggression is not always just rhetorical. And so whether it's on the South China Sea or whether it's along the border with India we continue to see provocations and disturbing behaviour by China that raises questions about how China seeks to use its growing power," Alice G Wells, the outgoing head of the South and Central Asia bureau in the US State Department told the media in a conference call.
Reportedly, China has heavily deployed troops in the area around Pangong Tso. Both India and China rushed in additional troops in locations like Demchok and Daulat Beg Oldie.
In the second week of May, India and China had a heated confrontation in Nakula sector of North Sikkim and troops of both sides received injuries.
News agency PTI quoted official sources saying that a number of personnel on both sides sustained injuries as they exchanged punches. The troops disengaged after a dialogue at the local level.
News reports suggest that a total of 150 soldiers were involved in the face-off that allegedly took place a few days back.
The area is located ahead of Muguthang and is traditionally not prone to clashes between the two forces. There's no road connectivity in the area and it is maintained through helicopters.
On May 5, around 250 Indian and Chinese army personnel clashed in the Pangong Tso lake area in which soldiers on both sides sustained injuries.
Sources said that temporary face-offs occur between the troops of both the countries due to the boundary issue, adding that this skirmish has occurred after a long time.
In 2017, troops of India and China were engaged in a 73-day stand-off in Doklam tri-junction, which even triggered fears of a war between the two neighbours.
The dispute covers the 3,488-km-long de-facto border between India and China, also called the Line of Actual Control. China claims Arunachal Pradesh as part of southern Tibet while India contests it.
(With agency inputs)
Disclaimer: This Article is auto generated by computer software and has not been created or edited by Sainik Welfare News. Publisher: www.dnaindia.com