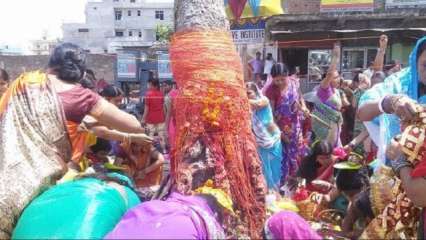 Vat Savitri Vrat 2020: Date, significance, subh muhurat & puja vidhi
'Vat Savitri' is a festival celebrated by married women who pray for the long life of their husbands and also so that they can marry the same husband for 7 more lifetimes.  
This year it falls on Friday, i.e- 22nd May 2020. By a remarkable coincidence, 'Shani Jayanti' and 'Snaan Daan Amavasya' also falls on the same day.
As a part of celebrations of Vat Savitri, women tie a sacred thread around a Banyan tree and listen katha. The Banyan tree holds a lot of significance on this day because as mythology says, Savitri got her husband back from the Yama (Yamraj) under this tree.
Women observe fast for the whole day and wear new clothes, accessories on this day. 
Subh Muhurat
According to Drik Panchang, Vata Savitri Amavasya falls on Friday, May 22, 2020. 
Amavasya Tithi Begins – 09:35 PM on May 21, 2020
Amavasya Tithi Ends – 11:08 PM on May 22, 2020
Vat Savitri Puja Vidhi
Wake up early in the morning and take a bath
Wear fresh clothes and get ready by doing solah sringar.
Collect all the Puja ingredients and place them on a tray or a basket made of cane.
Visit a place that has a banyan tree (vat vriksh).
Then place the idol Satyavan and Savitri to the left at the bottom of the tree's trunk. Leave some space and play the idol of Lord Yama to Satyavan's right. Offer water, five fruits, incense sticks, red cloth, and vermilion to the idols.
Then start circumambulating the tree and do as many parikramas as possible – 11, 21, 51, or 108 times while winding the yellow and red thread around the tree's trunk.
Listen to the legend of Savitri and Satyavan. After going home, the fruits offered as prasad can be consumed. Later in the evening, one can consume sweets.
(The Puja vidhi may vary from region to region)
Disclaimer: This Article is auto generated by computer software and has not been created or edited by Sainik Welfare News. Publisher: www.dnaindia.com