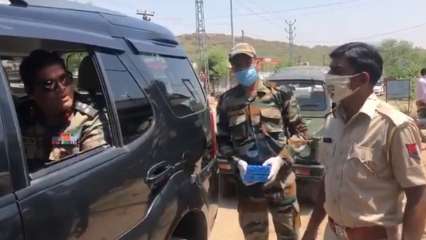 Video: When an army officer told policemen…'We are proud of you'
The video shows an Indian Army officer in Rajasthan talking to two cops and appreciating them for their good work.


Edited By
Abhishek Sharma
Updated: May 22, 2020, 08:50 PM IST
In a motivating video that will make you feel better in the tough times that the country is going through, an Indian Army is appreciating the work being done by the police and distributing sweets to them.
The video, posted on Twitter by Bikaner police, shows an Indian Army officer talking to two cops and applauding them for their good work during the time of crisis. 
"We are very proud of the work that the police is doing. The Indian Army is proud of you. And my jawans have asked me to distribute sweets to all the cops who are working very hard. Keep it up," he is heard saying.
The officer further adds that while everyone is concerned about their jobs these days, policemen are putting their best efforts to make sure that the situation remains under control.
"The sweets are from the Indian Army. They have made it for you," he says later.
कोरोना वारियर्स की ड्यूटी व सेवा के जज्बे को सेना का सलाम!@IgpBikaner @spbikaner @pawanmeena @PoliceRajasthan @ChuruPolice @sgnrpolice @HmghPolice @DineshMNIPS1 @SPOJodhpurRural @Rajsamandpol #proud_moment_indeed #coronawarriors #bikanerpolice #rajasthanpolice #covid19 pic.twitter.com/TYV2TqZQW6

— PcrBikaner (@PcrBikaner) May 20, 2020
The video has received thousands of shares and retweets and was also shared by Bollywood actor Anupam Kher. 
"This is one of the most motivating videos I have seen in the Covid19 times. Where an Indian army officer is applauding the work being done by police and home guards personnel. Listen to his words of appreciation. Jai Hind!" Kher wrote on Twitter.
Disclaimer: This Article is auto generated by computer software and has not been created or edited by Sainik Welfare News. Publisher: www.dnaindia.com