Military Salary Package for Indian Military Personnel – Bank of Baroda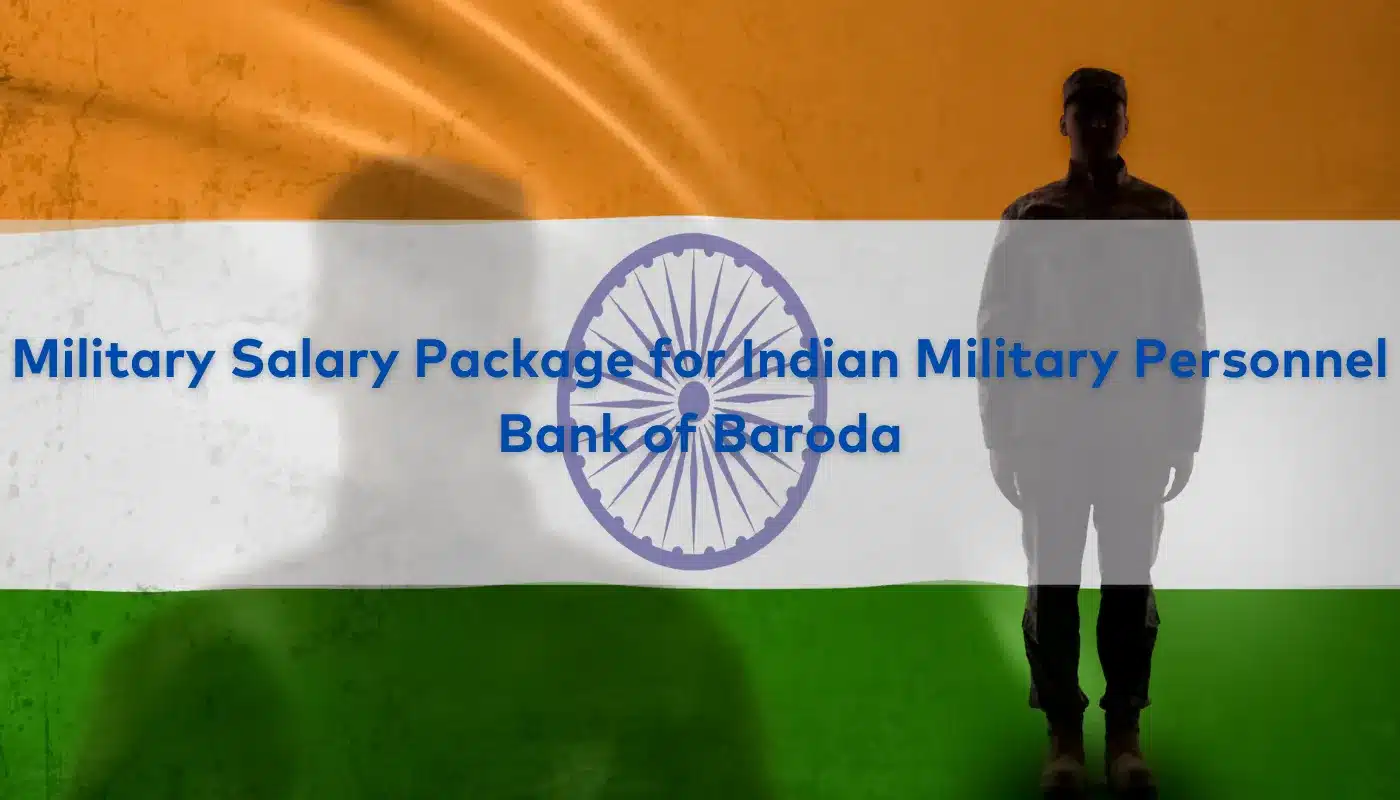 "For Your Bravery and Honour"
"Open Salary and Pension Solutions for Indian Military Personnel Account and get attractive benefits"
Bank of Baroda (BoB) has signed a memorandum of understanding (MoU) with Indian Navy and Indian Coast Guard under which the bank would offer customised services along with a host of facilities to account holders. The bank has also renewed its existing MoU with the Indian Army to offer specially customised banking services through "Baroda Military Salary Package".
Eligible Forces
Indian Army
Indian Air Force
Indian Navy
Indian Coast-Guard
Personal Accidental Insurance for Salaried Personnel
Personal Accident Death Cover Rs.50 Lakhs * (On-duty Rs.50 Lakhs and Off duty Rs.40 Lakhs)
Permanent Total Disability cover Rs. 40 Lakhs*
Permanent Partial Disability cover Rs. 20 Lakhs*
Air Accident Insurance cover upto Rs.100 Lakhs*
Inclusion of deaths in active operations in Personal Accident Insurance
Personal Accident Insurance Cover age between 18 – 60 Years
Girl Child marriage Cover (18-25 years) 10% of Base PAI Cover*
Higher Education Cover 10% of Base PAI Cover*
Transportation of Dead Body- Actual Cost or Rs.50,000 whichever is lower
Cost of Plastic Surgery / Burn Rs.2 Lakhs
* Important terms and conditions:
Maximum Base PAI cover Rs. 40 Lakhs
Maximum Personal Accident Insurance Cover available is either 10 times of Gross Annual Income of account holder or any of the above mentioned applicable Insurance Coverage, whichever is less.
Air tickets should be booked with our Bank's Debit Card & Air Insurance could not be less than base cover.
Higher Education cover for Graduation Courses.
Pensioners Will be Eligible for Following Insurance Coverage
Personal Accident Insurance cover Rs.40 Lakhs*
Permanent Total Disability Rs.40 Lakhs*
Permanent Partial Disability Rs. 20 Lakhs*Rs.
Personal Accident Insurance cover for Pensioners upto 70 years
Benefits in retail loans
Salary Overdraft up to Rs.3.00 Lakhs
100% waiver on processing charges in Housing Loan, Auto Loan, Education Loan, Mortgage Loans and Personal Loan
Concession of 0.25% in applicable ROI of Auto Loan for the account holders who have availed Home Loan
Benefits in ATM transactions
No. of transactions at other Bank's ATM: Unlimited Free
Cash on mobile ATMs: Cardless cash withdrawal service from ATMs
Benefits in Debit Card
Lifetime Free VISA Platinum Debit Card
Additional Free SELECT Variant of Rupay Debit card for Senior officials (Additional Rs.10 Lakhs Personal Accident Insurance cover under SELECT Debit Card)
On the Fly Debit card EMI – Pre-approved Personal Loan with easy EMI on swipe of Debit card at all major stores
Debit card limits
Cash withdrawal limit: Maximum Rs. 50,000 per day at BOB ATMs
Cash withdrawal limit at other Banks ATM as per RBI regulation
Purchase limit of Rs.2 Lakhs per day (POS)
Other benefits
Free Remittances– NEFT /RTGS for online or through Branch
Free– Mobile Banking & Internet Banking
Free unlimited– Demand Draft / Banker Cheque
Lockers – 50% discount on locker rentals
100% waiver in Demat Annual Maintenance Charges
75% waiver on issuance charges for Gift and Travel card
Baroda M-Invest: Mobile app available for investing online in various Mutual Funds
Online FDR opening: Facility of opening Fixed deposit online through Mobile banking and internet banking is available
Digital mode of Payment Facility: BHIM Aadhaar Baroda Pay, BHIM App, Bharat Bill Payment services
Benefits in credit card
Life time Free Credit Card subject to eligibility criteria. Different card variants based on salary band
Additional Air Accident Insurance in the range of Rs.15 Lakhs to Rs.50 Lakhs is available under all variants of Credit Card