Udchalo Flights Defence quota in India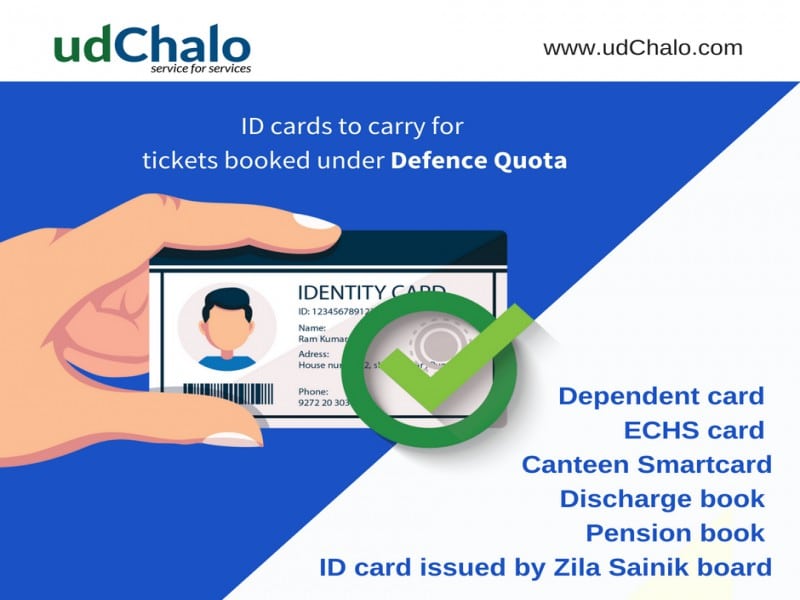 Udchalo Flights Defence quota in India
UdChalo Flights provides discounted air tickets for personal travel to the following categories:
Serving Armed Forces Personnel & Their Dependants.
Ex-servicemen & Their Dependants
Paramilitary Forces & Their Dependants.
UdChalo flights tickets up to 40% Discount
UdChalo is the first-ever air-discount service for Indian armed forces that gets you the unsold airline tickets at upto 40% discount. It's the one stop destination to get fantastic deals on flights for defence personnel. It offers upto 40–50% discount on the lowest online fares.
Serving/Retired Army/Navy/AirForce personnel and dependents:
please enter your/spouse/father's Service number in the format '12345A' in the service number text box.
Paramilitary Forces:
Use your service number or id card number.
Two engineers from the Army Institute of Technology, Pune, Varun Jain and Ravi Kumar, found that about 40,000 seats on domestic flights go vacant every day. In spite of it, more than 5,000 jawans from the Indian armed forces travel in general compartment everyday due to unavailability of seats. Their family members and veterans also face similar problems.
The ideation for udChalo started in 2012 with an objective to transfer waitlisted railway passengers to fill the vacant last-minute airline inventory. While working on this, we observed that many Army personnel travel in general compartments due to unavailability of seats in the Railways," says Varun.
Varun worked for Persistent and is one of the founding members of Tavisca Solutions, a product development company. Prior to starting udChalo, Ravi worked for almost three years in companies like Tata and Dassault.
udChalo has partnered with three airlines and sells over 5,000 seats every day. The founders believe that it is a win-win for both customers and airlines; the airlines can earn incremental revenue and the customers can get an alternative mode of travel.
The startup has 14 employees out of which three are ex-servicemen from the Indian Army. For offline counters, they have recruited retired Army personnel.
Other plans in the pipeline include opening up of UBC (udChalo booking counters) at 50 places, mostly in far-flung areas and field areas to cater to the need of armed forces personnel who cannot book tickets online. "Since all of us working in udChalo are from a defence background, we know the right channels to approach. We send letter communication to various defence units who inform their troops about the facilities available to them. Apart from that, we are active on social media for our marketing," says Varun.
Website: udChalo
Contact Details of UDCHALO
 Phone
GENERAL ENQUIRIES    Call us 24X7.
9272 20 3030, 8408 83 3030
 

E-Mail
CUSTOMER CARE
customercare@udchalo.com
JOBS AT UDCHALO
careers@udchalo.com
SALES
sales@udchalo.com
FAQ on UdChalo
Question: What kind of services does udChalo provide?
Ans: udChalo is an online travel agency for Indian Armed Forces.We provide all Defence air fares on one platform . We also have offline ticket booking counters located pan India. All are counters are run by Veterans/Veer Naris/ Dependents.
Question: Why will I get such a good deal for no reason?

Ans: There's no better deal than serving your nation. We understand that grant of leave at eleventh hour makes a pre-planned travel less of possibility for a defence person. Moreover, high rates of air-tickets add up to the situation.

Question: Why do you need my Defence ID?

Ans: We need your Defence ID because we cannot validate the legitimacy of our customers otherwise. We strictly serve people from defence fraternity.

Question: How can I check the balance in my udChalo Wallet?

Ans: Please check your wallet section in your udchalo account to check the current wallet balance.

Question: What should I do if I am not able to log in to my udChalo.com account?

Ans: Please reset your password using the forgot password option. If it still it doesn't work, then please contact us.

Question: How do I trust your website or its authenticity?

Ans: udChalo is a product of UpCurve Business Services Pvt. Ltd, a Company incorporated under the Companies Act 1956 with Corporate Identification No: U72200PN2012PTC144765.
Question: I am entering my defence number correctly yet your website is not accepting it. Why is it so?

Ans: There might be few reasons for it; Using wrong suffix at the end of the number, selection of wrong category, giving space in between numbers and alphabet. The correct format to put your number is "IC34534C"or "34534C".

Question: I do not have a suffix for my defence number. What to do?

Ans: This is one of the rare cases. Please Contact Us for more information.

Question: How can I opt-out of notifications from udChalo?

Ans: Notifications are sent to keep you updated with latest offers, promotions, discount coupons, updates for your bookings, etc. However, if you want to opt-out, please visit your profile section on udchalo account to disable notification.

Question: What is an e–ticket?

Ans: An e–ticket (electronic ticket) is a paperless electronic document with a unique confirmation number that neatly replaces the hassles of a paper ticket. When you purchase an e–ticket, we email it to you after the booking is complete. Simply print it out and bring it with you – along with a valid photo ID – to the airline counter when checking in for your flight.
Question: Am I eligible to book tickets using udChalo.com?

Ans: If you are Serving/retired personnel from Army, Airforce, Navy, Paramilitary OR a dependent with valid ID proof you can book tickets via udChalo.

Question: I am an SSB candidate. Am I eligible to use udChalo to attend my interview or medical?

Ans: No, SSB candidate cannot book defence Airfares using udchalo.com.

Question: I am a student of AWES colleges (e.g. AIT, AIMK), can I use udChalo to book tickets?

Ans: All valid dependent carrying a valid dependent card can book tickets via udChalo. No specific service is provided to students of AWES colleges.

Question: I am senior citizen, can I book a discounted air ticket under senior citizen discount using udChalo.com?

Ans: udChalo.com doesn't provide senior citizen discounts at the moment.

Question: I am 23 a year-old kid of a serving/retired defence person. Can I use udChalo?

Ans: A female dependent may use udChalo till she gets married and a male dependent can avail this facility till he attains 25 years of age.

Question: Which ID card do I need to produce at the airport?

Ans: Please carry the identification document which contains the same defence id used during the booking of ticket. Examples: Dependent card, ECHS card, Canteen Smart card, Discharge book, Pension book, ID card issued by Zila Sainik board.

Question: I am from paramilitary forces or cetral armed police forces; can I avail the services?

Ans: Yes, you can avail the services from udChalo.com.

Question: Can LTC be availed on tickets booked via udChalo?

Ans: If you are an Officers, udchalo may not be used for availing LTC claims If you an ORs/JCOs: Refer letter no. : No. 31011/5/2014-Estt (A.IV), according to this letter dated 21st Aug 2017, udChalo ticket can also be submitted for LTC claim by JCOs/ORs. We recommend that you contact your PAO(OR) for further details or write to us at customercare@udchalo.com.